Are you trying to find the best walkie talkies for skiing? If so, then you've come to the right place. We've done all the research and are listing out the top 5 potions you can buy when you hit the slopes. Let's check them out…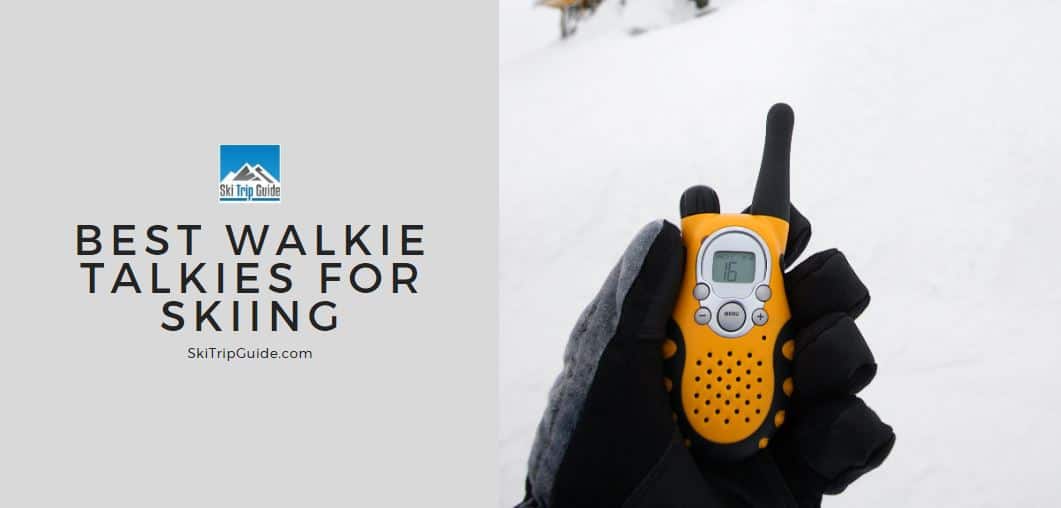 Best Skiing Walkie Talkie Reviews
With an impressive 22 channels to choose from, it's fairly easy for users to select the channel that they are going to share and then start using these walkie talkies without problems. The VOX feature reduces background noise, which is great when using them on a mountain.
With powerful rechargeable batteries and a compact design, this walkie is easy to take on the go. It only weighs a few ounces, which means that skiers won't feel burdened when carrying it, and thanks to the durable clip, it stays in place, even during falls. 
Pros
Powerful batteries provide 10 to 12 hours of use on a single charge

Multi-pack is great for larger families to communicate

210 private codes and an encryption function provide safe communication between users without interference 

Hands-free voice activation operation available, which means skiers don't have to remove their gloves to use the walkie

Water and dust resistant to ensure perfect function on the mountain
Cons
Can be difficult for some users to set up and the instructions tend to be confusing

Scan function isn't reliable at longer distances

Not ideal for use in large buildings as the steel can interrupt the signal
Check Today's Price on Amazon >>
 One of the best features of these walkie talkies is that they are so easy to operate, which means that skiers of all ages can easily communicate with each other when on the mountain. The talk button is large and easy to press, and the sound is clear.
Read Also: Best Hydration Pack for Skiing
These walkies come with a built-in flashlight and the ability to page the other radio, making it easy for users to reach out to one another on the mountain when they are in a hurry.
Pros
Easy push to talk operation is great for new walkie talkie users

Power saving function helps to save battery life to extend it beyond the normal eight to nine hours of use

Easily works in open areas up to five miles

Comes with ear pieces, hand straps, and belt clips, ensuring that skiers can customize their setup and make the most use of their new walkie talkie

Clear sound is bright and easy to hear, reducing frustration
Cons
Not known for having great range in cities

Belt clips aren't incredibly durable and may need to be replaced

Earbuds don't always stay in the ear, which can be frustrating when skiing
Check Today's Price on Amazon >>
Thanks to the easy push to talk button, and the clear sound that these walkie talkies provide, they are a wonderful option for any person heading to the mountain to ski. They are small enough to be easily clipped onto pants or stored in a pocket, but offer loud and powerful sound.
The battery provides hours of use and can be recharged in the walkie talkie or on its own, making this radio very easy to use. 
Pros
Bright blue and black design makes it easy to see the walkie talkie against the snow

Powerful 1500mAh rechargeable Li-ion battery is reliable and does a great job holding a charge

Built-in speaker is powerful and makes it easy for skiers to hear each other

Channel frequency is programmable to ensure that users can easily communicate

Small and sleek design is discreet and easy to carry in a jacket pocket
Cons
Can stop working when fully immersed in water or snow for an extended period of time

Some users have problems selecting the same channels to communicate

Don't offer a long range when obstructed by buildings or a lot of trees
Check Today's Price on Amazon >>
Staying safe on the mountain is easier than ever, thanks to these powerful walkie talkies. Not only do they provide clear communication with each other, but they also pick up NOAA weather problems. With a clear screen that is easy to read, users won't have any problems communicating.
Read Also: Best OTG Goggles for Skiing with Glasses
The battery lasts for a long time, and since the packs are rechargeable via various chargers, it's easy to power the walkies from the car, the wall, and even from a USB port. 
Pros
38-mile range is great for use when skiers are spread out from one another

Features 121 CTCSS privacy codes to help block conversations from other people

NOAA weather scan provides alerts regarding severe weather updates

NOAA weather alert produces a loud sound when there is a risk of severe weather in the area

Hands-free voice activation to ensure that users can communicate in emergencies
Cons
Earbuds don't stay in the ears and the head sets tend to slip off the head

Instruction booklet is difficult to read, making setting up the walkies harder than necessary

Won't reach the stated range in some conditions
Check Today's Price on Amazon >>
These powerful walkie talkies only weigh four ounces, making them some of the lightest and most powerful options on the market. With an impressive range of 16 miles in ideal conditions, they are great for adventuresome skiers who want to hit the slopes. 
The bright blue color is easy to see in the snow, and the large screen makes reading the walkie talkie and understanding the settings incredibly easy. This makes these walkie talkies a great option for new users who don't have a lot of experience with this type of equipment. 
Read Also: Best Earbuds for Skiing – Our Top 5 Picks
Pros
Call tones grab attention to ensure that the receiver is listening

Low battery alert prevents running out of power on the mountain and tells users when they need to change the battery

Keypad lock prevents accidental calls or personalized settings from being changed

22 available channels to choose from, ensuring that users can easily communicate without interference from others

Compatible with any other radios, making getting help on the mountain easier
Cons
Can be difficult to remove the bottom to change the battery

Doesn't offer great coverage near buildings

Batteries run out quickly, even when the radios are just in stand-by mode
Check Today's Price on Amazon >>
Features You Must Consider
Range
The range that walkie talkies can transmit reliably is one of the most important things to consider. There are some walkie talkies that are powerful enough to easily transmit over a range of up to 35 miles, depending on how many obstructions there are.
Obviously, trees, mountain ranges, and buildings will all lower the range of walkie talkies. Since these are very common obstructions when skiing, it's important to look for walkie talkies that have a larger range and will offer great clarity so they will work reliably in a skiing situation. 
Read Also: Best Two Way Radios for Skiing
NOAA Weather Alert
Some walkie talkies have the ability to provide NOAA weather alerts to the user, which is imperative when skiing in remote locations. Not only will these alerts warn users of incoming inclement weather, but they will also provide information about where to go for safety. 
Taking emergency alerts seriously can save lives when on the mountain, which is why it's such a good idea to look for walkie talkies that will help prevent accidents and provide the necessary information for skiers to make good decisions about their safety. 
Construction
Higher quality walkie talkies tend to be a little bit heavier than other options, due in part to their more durable exterior. Rugged walkies that are not only waterproof, which can prevent them from being damaged during a ski accident, but also have features such as rubber bumpers to help grip, are useful and easy to use in the snow. 
A tough exterior is imperative to ensure that a walkie talkie isn't damaged while skiing. Some walkie talkies simply aren't durable enough to handle being immersed in the snow multiple times throughout a day.
Battery Type
Most walkie talkies can either operate on a rechargeable battery or use standard batteries. Waiting for the battery to charge before going back to the slopes can be frustrating for some skiers. On the other hand, using standard batteries means that the skier will have to carry extras with them to ensure that their walkie talkie works throughout their entire trip. This is a personal preference, but having enough battery power at all times is imperative for safety. 
Emergency Features
Accidents can happen on the mountain, which is why being prepared is important. One emergency feature that some walkie talkies offer is a built-in flashlight. This will use a lot of the battery, but it is a great way for skiers to make sure that they can find a safe place to spend the night in an emergency.
Another great emergency feature is a built-in siren. If a skier is stuck or in a dangerous situation, then using the siren to alert others to their location may be the best way for them to call for help. Built-in beacons are another great choice, and are a wonderful way for skiers to get the help that they need when in danger. 
Belt Clip
Keeping the walkie talkie available and easy to use at any time is key to safety on the mountain, which is why it's important to choose a walkie with a durable and reliable belt clip. Unfortunately, not all walkie talkies have great belt clips, which means that they are at risk of falling off in the snow. 
A clip that is durable, strong, and easy to use will help prevent the walkie talkie from coming off in the snow and being lost. 
Wrap Up
With its long battery life and multi channel selection, we think that the Retevis RT27 Walkie Talkies are a really solid choice for the slopes this season. All of the other options are also great of course, but these were the favorite all factors considered.
Happy skiing.