Are you trying to find the best earbuds for skiing? Then you've come to the right place. We've done all of the research so you can hit the slopes and enjoy some tunes at the time.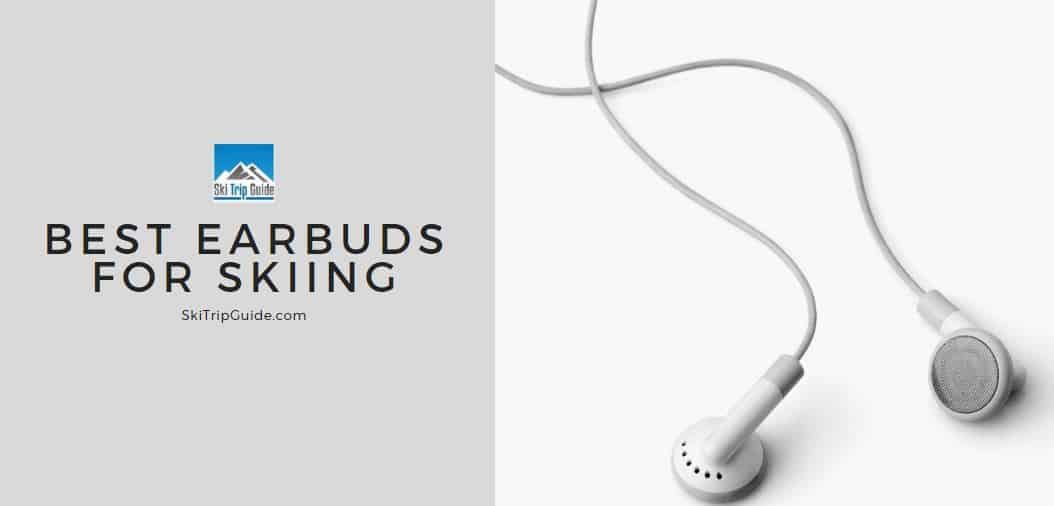 Do note that listening to music while your skiing isn't that safe and I can't say that we recommend it. But if you're going to do it anyway, then consider these options…
Best Skiing Earbuds Reviews
Designed to work with Apple devices, these earbuds fit easily in the ear and stay in place due to the three sizes that skiers can choose from. The durable design is great for new skiers who may spend a lot of time in the snow, as they are rugged and won't be easily damaged by exposure to some snow, water, or sweat.
Pros
Earbuds come in three sizes to make it easy to find the perfect fit
Designed to be weather and sweat resistant so that they won't fail after a long day skiing
Inline microphone makes it easy to switch between calls and music
Comes with durable protective carrying case to prevent damage on the road
Provides clear sound due to TriPort Technology
Cons
Tend to let in a lot of ambient noise
Wire quality is low, and the wire can easily break
Bass is not as deep as it is on
Check Today's Price on Amazon >>
Designed to provide the perfect fit and to remain in place even during extreme activities, these headphones are a great option for skiers who want something durable and that provides great volume. The multi-function control button on the cord makes it easy to play, pause, answer or end a call, skip tracks, and even reject incoming calls without having to touch the cell phone. 
Pros
Winged earbuds are designed to stay in place and come in three sizes for a comfortable and reliable fit

Built-in microphone makes accepting calls easy and ensures that they are clear

Controls on the wire are clearly labeled and large enough to operate when wearing gloves

Braided cord is designed to resist tangling and breaking

Compatible with a wide variety of phones and music players
Cons
Volume buttons don't work with all types of phones

Can randomly change volume on their own

Low hum occurs at some times, making listening to music difficult
Not only do these earbuds easily and wirelessly connect to a music player, but they offer great ambient sound cancellation and clear and bright tones. The small and sleek design is great for any skier who wants to skip any wired options and instead rely on something smaller and more portable. 
Pros
Impressive range when listening to music ensures that the sound is clear and true-to-life

Offers 25 hours of playtime with an impressive rapid charge feature

Can be charged via the portable charging case up to five times in a row, making it easy to use these earbuds when out in nature for a long period of time

Bluetooth earbuds are designed to be sweat proof and won't slip out of the ear or chaff sensitive skin

Remains paired to a phone or tablet up to 40 feet away
Cons
Fit can be uncomfortable and will feel like the earbuds are going to fall out, even when they are secure

Pushing buttons on the earbud to control it will push it farther into the ear

Can sometimes randomly disconnect
Check Today's Price on Amazon >>
These are serious earbuds that are a great option for any skier who loves to get in a hard workout on the mountain. Thanks to the easy control that they offer over music and calls, they allow skiers to keep their gloves on, but still manage their music and connect with people who are trying to reach them. 
Pros
Dual-air chamber provides a great dynamic expression

Sweatproof design prevents them from being damaged or falling out of the ear when spending all day on the slopes

Built-in volume and microphone control make it easy to manage calls and tracks

Compatible with most smartphones and other music players

Ships with additional soft rubber eartips and ear pieces so that skiers can customize a comfortable fit
Cons
Mic is not very strong and callers can't always hear the person wearing the earbuds

Can slip out of the ear during extreme activity

Wires will sometimes kink and wrap up around each other
Check Today's Price on Amazon >>
Unlike other earbuds that have to be pressed firmly into the ear to work, these earbuds hook over the ear and rest the speaker against the ear. This makes them a great option for skiers who struggle to wear traditional earbuds or who think that they are uncomfortable. The sound is great, and the cord is incredibly flexible and durable to prevent damage, even when the skier is involved in a fall and the earbuds are pulled from the head.
Read Also: Best Hydration Pack for Skiing
Pros
Ergonomic design helps keep the earbuds from falling out of place and ensures comfort

Built-in mic provides clear calls without much ambient noise

Wide compatibility thanks to the 3.5 mm gold plated jack

Multi-function control allows skiers to adjust music, accept or reject calls, use the voice assistant, or call the most recent number

Offers 24-month warranty with support
Cons
Ear bands are oversized and can easily slip out of place

Tend to crack if handled roughly

Volume control can fail and cause the earbuds to change volume suddenly
Check Today's Price on Amazon >>
One of the best features of these earbuds is that they are designed to be incredibly comfortable. All of the tips are soft and will easily fit in the ear without causing any irritation, which is great for skiers who plan on spending all day on the mountain. With a large speaker and high-quality controls, these earbuds are fun and easy to use. 
Pros
Comes with four sets of interchangeable gel tips to ensure a comfortable and custom fit for every skier

Three-button remote on the wire is easy to use, even with bulky ski gloves on

12 mm speakers are designed to be larger than normal and to provide great sound

Cable is designed to lay flat and remain tangle free, even after a spill, and comes in four great colors

Professional microphone makes it easy to accept phone calls
Cons
Earbuds can sometimes fail without warning

Don't always do a great job blocking ambient noise

Won't always work reliably with all music players or phones
Check Today's Price on Amazon >>
Earbud Features You Must Consider
Wired Versus Wireless
Skiers who opt for wired earbuds must make sure that they have a safe location where they will be able to store their music player without it falling out into the snow and getting lost or damaged. Wired earbuds can be a bit annoying for some skiers because it can be a hassle to find a way to store and position the wires without them being uncomfortable. 
Wireless earbuds, on the other hand, allow the music playing device to be stored anywhere on the body or in any pocket. As long as the earbuds have a long battery life, then there is very little risk of them failing when on the mountain. If they fall out of the ear, however, they can be easy to lose, as they won't be tethered to the music player by a wire. 
Read Also: Best Neck Gaiters for Skiing
Sound Quality
Earbuds that are going to be used outside need to be able to provide great sound quality, even when used in windy conditions. Very crisp highs and incredibly deep lows are imperative or the sound will come across as tinny and won't be full and rich.
Weight
While most earbuds are incredibly light, which makes them comfortable to wear for extended periods of time, some are a bit heavier, and can start to be uncomfortable when worn all day long. Heavier earbuds will sometimes do a better job of staying in place after a fall, so skiers need to make sure to really consider the weight of potential earbuds and how they will work in the ear. 
Durability
There are a lot of great earbuds on the market that simply aren't designed for use in extreme situations, such as skiing. While these earbuds may sound wonderful when used at home, they just won't last as long outside. High-quality earbuds should be able to withstand falls and being shaken in the helmet without breaking, as most skiers will take a spill at some time on the slopes.
Ease of Use
Earbuds that are wired have a clear advantage in this case, as they typically have control buttons along one of the cords. These buttons can be used to change the volume and, in some cases, even to switch songs. Skiers who want to be able to control their music without having to take off their gloves will need to consider how easy their new earbuds will be to use. 
Price
The price of earbuds designed for skiing can vary widely, so this is something that skiers need to take into consideration. Serious skiers will likely be happier with more expensive and higher-quality earbuds, as they are likely to get much more use from them.
Occasional skiers may be able to buy less expensive options, or even sport earbuds, since they won't be on the slopes as much and may not need something that is quite as high tech. 
Play Time
Skiers who opt for wireless earbuds need to make sure that they choose ones that will provide them with hours of play time before they need to be recharged. It is very frustrating to be in the middle of a great ski session only to have the battery on wireless earbuds die. 
Wrap Up
Out of all the options considered, we think that the Bose SoundSport in-ear headphones get the top pick for overall value, function and sound quality.
Remember, if you're going to listen to music be sure to keep it super low so you can hear what's going on around you (but you shouldn't really do it at all).
Safety first!