The world of skiing is changing rapidly.
The latest technology advancements bring numerous benefits and ensure the skier's safety. Skis have become faster and smoother. Wax is now safer and more effective. Such improvements on ski gear make a world of difference to new skiers.
But smart ski goggles could be the most striking development so far. Just as when the smartphone replaced the flip phone and made our lives easier, the new smart ski goggles could revolutionize how we ski nowadays.
Never heard of them? You've come to the right place. I'll explain how they work and you can decide if you should start looking for your own pair.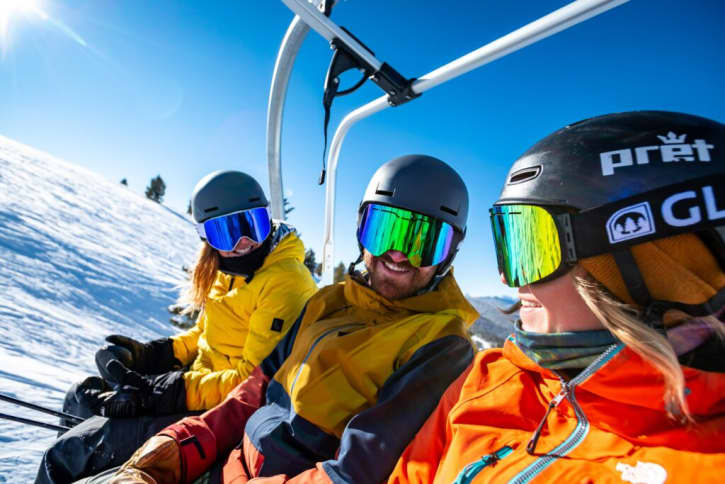 REKKIE and The Origins of Smart Ski Goggles
About REKKIE
REKKIE is a pioneering company in selling smart ski goggles. They also have other ski gear such as swappable lenses (for the smart snow goggles), t-shirts, sweatshirts, and hoodies — but the goggles are the main attraction here.
Similar to Netflix's origin story, REKKIE  was created as a result of the founder's dissatisfying experience. Henry, REKKIE co-founder, tried to follow a shortcut at Lake Tahoe, but ended up taking the wrong path and going on a different lift. Due to poor reception, he wasted a lot of time on looking for his group of friends. This waste of valuable time actually led to the creation of the company. As Henry put it, "On the mountain every minute counts."
So Henry and co-founder David began the process of designing and producing goggles that could help skiers use their precious time on the slopes more efficiently. And that's the core of the smart ski goggles story.
RideOn… RideOff?
RideOn is another company that produced smart ski goggles. However, their website has been down for some time and they haven't posted any updates on the product's development since 2019.
Therefore, REKKIE is the focus of this article, as their website offers more information on the product's features and improvements.
Earlier Attempts at Goggle Smartness
Many years ago, Oakley and Smith also began to sell smart ski goggles. Both were discontinued as customers quickly noticed quality issues.
The $650 price tag probably didn't help. 🤷
The REKKIE Smart Snow Goggles are currently (December 2022) available on their website for $349 and customer reviews are very good.
What Can Smart Ski Goggles Do?
As their name suggests, they do more than your regular ski goggles. The primary benefits are:
They ensure mountain safety
They enable communication
They give access to fast and effective navigation
They are specially designed to solve common problems through a bunch of digital features:
Augmented Reality
According to The Economist, augmented reality (AR) implies that a device overlays images or text on top of the reality depicted on screen. Snapchat, for example, uses AR when it adds accessories to your pictures. This app can give you everything from rabbit ears to baseball caps and moustaches.
Similarly, when wearing your smart ski goggles, you'll see both the real landscape, and information layered on top such as the weather, trail names, and lift names.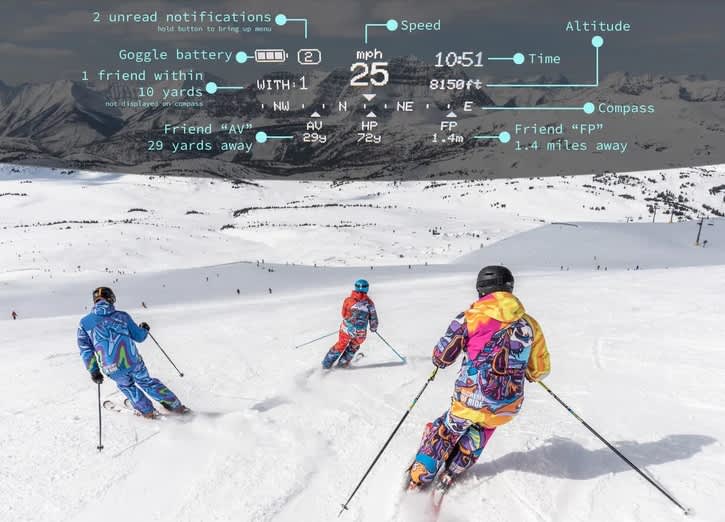 Personalized Feedback
Have you ever wanted to keep track of your jumps and tricks more efficiently? The new smart ski goggles are here to help you keep track of your performance and improve your skills. In fact, this product can give you specific feedback such as the jump's altitude and the number of rotations. You can even challenge yourself more and compete with your friends. Now let's see who can do the best tricks!
Audio and Video Sharing

You can share audio, text messages, and videos with your smart goggles. Can you imagine showing your tricks and jumps to your friend through videos? Now it's possible to show exactly what you're seeing to your friends and family. You could also see your children at their ski lessons or your friends on the other side of the resort.
Video Camera
The days when you had to put a camera on top of your helmet will be behind you. Smart ski goggles have an HD video camera which will allow you to record your days at the resort, revisit your recordings to do improvements, and share these beloved memories with friends and family.
GPS
A GPS can help you know your location, speed, and altitude. This feature can also help you find your friends and relatives faster if you all have different ski levels and get separated during the day.
Navigation
Nobody wants to get lost on the slopes like REKKIE co-founder Henry. Therefore, you will be able to see an AR-based map with your smart ski goggles. In other words, there will be digital arrows on your goggles which will help you find the right trails as you move from one hill to the next one.
Internet Access
Unlike your regular old goggles, the smart ski goggles can have internet connection, giving you the opportunity to access information such as the weather, the radar, email, and texts.
Bluetooth Connectivity
This feature allows skiers to connect the smart goggles to other devices. In fact, Bluetooth can help you access your playlist on your phone and even control boot heaters.
Avalanche Rescue
Every skier who goes to backcountry areas must bring an avalanche transceiver (avalanche beacon), a device designed to locate a buried skier during an avalanche. Avalanche transceivers emit radio signals that can be recognized by the other transceivers around the same area. When a skier is buried during an avalanche, the other skiers must switch their transceivers to "search" mode to locate the person in danger and they can start digging.
So, what if the smart ski goggles could read the avalanche transceiver's signals? By using the AR arrows, the skiers could be able to locate the buried person and save them in less time.
Use with Other Smart Ski Gear

There are a few smart devices that you could connect to smart ski goggles to improve your techniques.
Carv Digital Ski Coach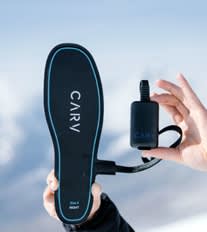 The CARV digital ski coach is a small sensor that fits inside a ski boot. It is designed to sense your movements while skiing in order to give you feedback.
This device can connect to your phone where you can select your personalized technique guide depending on your level. The app guides you as you ski by using real-time audio that tells you what to improve, counts the number of turns, and motivates you to keep improving.
You could perhaps also pair your CARV with your smart goggles, so there would be no need to check your phone every time you finish a run.
GoPro Camera
The GoPro MAX  is highly recommended by the GoPro website  since it offers a wide variety of options to reframe the shots on the GoPro Quik app. Now that you can see the shots from your smart ski goggles, you only have to link the camera to the goggles. This option will give you more control on the angles and direction that you want to record. (This can also apply to other action cameras.)
Atomic Hawx Ultra Connected Ski Boot
Austrian ski boot maker Atomic announced an "Ultra Connected" boot at CES in 2019. CES has some of the coolest inventions around, but many attractions there are just concepts that never actually make it to store shelves. Indeed, several years later the only connected anything on Atomic's website is a Bluetooth helmet.
But if any smart ski boot ever becomes available, it would likely be designed to give real-time feedback using a mobile app. The sensors embedded inside the liner would keep track of balance, turn count, speed, etc.
At any rate, your smart ski goggles might be able to show you this in the augmented reality view.
REKKIE  Smart Snow Goggles
There is currently one type of smart ski goggles available on REKKIE's website, but the features are so impressive that you'll want a pair right away. There is a possibility that they will be launched in Europe and Canada in 2023, but for now they are only available in the U.S.
Compatibility
The goggles require an iPhone and iOS companion free app. Unfortunately, the Android app is still in development. Let's just hope that it'll come out soon for all those Android users who also want to enjoy this product.
Heads-Up Display (HUD)
If you've ever been skiing, chances are at least one of these things has happened to you:
You found an excellent spot but there was no signal to share it with your friends
You got lost and weren't able to contact your friends
You missed calls and texts on the slopes due to poor reception
REKKIE's founders know that those situations can be extremely unpleasant, so they made sure that the next generation of skiers won't have the same problems contacting their family and friends. Therefore, according to the website, REKKIE Smart Snow Goggles are designed to perform the following functions:
Keep track of your friends on a real-time compass
Read incoming texts and other notifications
View, answer, and end phone calls
Control music playing on your iPhone
Check speed and elevation stats for you and your friends
View clock, altitude, and battery life
Being in control of your own music is an opportunity that you can't say no to. Anyone who has been in the snow knows that it's extremely annoying to take your gloves off to check your phone and pick your favorite playlist.
Moreover, the possibility of checking your speed and elevation statistics can improve not only your experience, but also your skills. You can gradually go at a faster pace and track your progress by using these goggles. Also, if you're a beginner and prefer easier slopes with less altitude, the statistics can help you find the right spot for you.
The clock will help you see time faster and plan your day more efficiently.
These features will help you stay in touch with your friends and family at all times when skiing. Being able to see texts and receive calls can even save lives, as your relatives and friends can contact you in case of an emergency. Imagine you're on the slopes and your child has an accident during a ski lesson or your friend had a terrible fall on the other side of the resort. These goggles can make communication faster and more efficiently when skiers go out on the slopes.
Do My Friends Have to Buy the Goggles?
No, your friends don't have to buy the goggles, they only have to download the free app. You and your friends can use this app as long as you all have cell service. If you want a better app performance, it's recommended that your group also uses the smart goggles.
📶 Smart Specifications

Connects to your iPhone over Bluetooth Low Energy (BLE) and uses your phone's GPS and cellular data connection
Built-in 915MHz radio provides additional goggle-to-goggle connectivity (about 2,000ft of range in areas with spotty or no cellular service)
Up to 15+ hours of continuous use battery life
Charges with standard USB-C cable (included)
Goggles update wirelessly through over-the-air updates from the phone app
Patent pending
Connectivity
Remember that the smart ski goggles don't replace your phone, they need to be connected to your phone in order to work. Hence, always carry your phone with you, so you can enjoy the different features.
What the goggles do have is a wide goggle-to-goggle connectivity range which can help you contact your friends at a long distance.
Battery
The smart goggles have an exceptionally long battery life that allows skiers to enjoy their day on the slopes without stressing about charging their smart goggles. It normally takes about 3-5 hours to completely charge your goggles. You charge these smart ski goggles with a USB-C cable, meaning that you can simply connect your goggles to your computer, phone, and other devices such as game consoles.
What Does It Mean to Be FCC Approved?

The  Federal Communications Commission (FCC) is the U.S. government agency that sets regulations for radio communications. One of the FCC's responsibilities is to ensure the safety of all the gadgets and gizmos sold to consumers. Hence, all legal electronic products must get this authorization before being presented to the public.

REKKIE Smart Snow Goggles use Bluetooth and FM radio, and are therefore subject to the FCC rules. The goggles are indeed FCC approved, having passed all the tests required by this agency. We all want to make sure that the products and devices that we use are safe, so it's a good idea to make sure that they are FCC approved.
🥽 Lens Specifications
I'll mention a few specifications. For the full list and more information, visit REKKIE's website.
Dual lens anti-fog system with UV 400 and scratch protection
20% VLT (visual light transmission) neutral gray lens included: A good middle-ground that protects your eyes from sunny days while still preserving your vision on overcast and stormy days
Highly breathable foam cushioning for all-day comfort
Premium non-slip strap with woven logo
Rugged, water-resistant, ultra-durable design
Full helmet compatibility
Anyone who has used glasses and goggles before knows that there is nothing more annoying than fog. Thanks to the anti-fog system and scratch protection, you will have improved visibility when skiing.
Read also: 13 Sure-Fire Ways to Prevent Ski Goggles from Fogging
As a skier, there are beautiful sunny days that you can't enjoy due to the sunlight that impairs your vision or overcast days that spoil all the fun. Therefore, the VLT neutral gray lens can be a lifesaver, as they will give you great visibility on the slopes regardless of the weather.
The foam, strap, and helmet compatibility are designed to give you all the comfort that you deserve. Also, the rugged, water-resistant, ultra-durable design give the goggles a longer lifespan, making this purchase an excellent investment that can last for many years.
Wrap Up
As we have noticed, the world is becoming more reliant on technology and the ski industry is no exception. The new smart ski goggles will change the way that we ski forever, as they facilitate communication and navigation. They also bring many useful features that enhance every skier's experience such as augmented reality, video cameras, and GPS.
And even though many of the advantages sound like luxury, others can actually help save a skier's life. For example, smart ski goggles make it possible to receive signals in an avalanche, and to get real-time texts and messages in case of an emergency.
The world of skiing is changing but for the better, so let's be open to the new possibilities that this kind of technology offers us and the next generation of skiers!
Have you noticed any smart ski goggles on the slopes? Do you plan to purchase some? Share your thoughts with our readers in the comment box below.