For skiers and snowboarders, flat light can be a nightmare. You get to the top of the mountain only to notice that there's strong cloud coverage and snow blowing around everywhere. Your visibility is compromised, and going down the mountain in such conditions can be extremely overwhelming.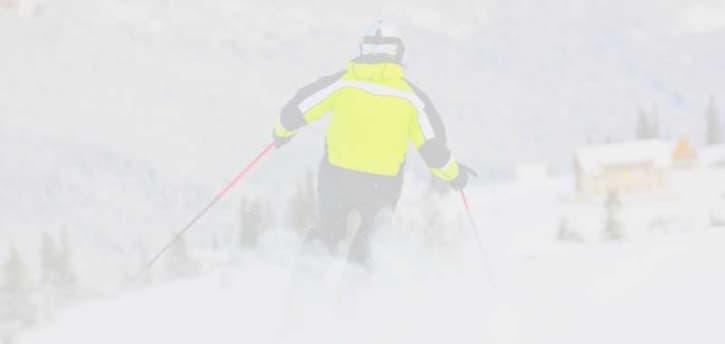 At it's best, it can make getting down the mountain slightly more difficult, and at it's worst, it can lead to falls and vertigo. Luckily, a good pair of goggles go a long way in making skiing in flat light manageable.
Here are the top picks for the best goggles for flat light:
Click any of the links to learn more about each goggle, or keep reading for the entire buyer's guide.
What You Should Know About Flat Light
What is Flat Light & What Causes It
The notorious skiing condition known as "flat light" refers to when everything on the mountain looks white. Not only can it make it extremely difficult to see features in the mountain, it can also make it hard to see very far in front of you.
Flat light is caused by two things:
An overcast sky, which washes out the light from the sun.
Heavy snowfall or winds carrying snow.
Why Goggles Help
While there's no way to fully reduce the lack of visibility that flat light causes, having the right pair of goggles can help bring forth some of the lacking detail. Colored lenses and wavelength filtering technology can add contrast to a completely white visual field. Goggles also serve as production for the eyes from the heavy snow blowing around the ski mountain.
Read Also: Smart Ski Goggles Made Simple
Lens Colors
There's a spectrum of lens colors that work well in flat light. These lens colors are designed to create the greatest amount of contrast for the user while still providing a moderate amount of visible light transmission, or VLT.
For example, the ChromaPop Storm Lenses that come with some of the Smith I/O MAG options have 50% VLT. A true nighttime ski goggle will often be completely clear and have close to up to about 99% VLT. On the other hand, a goggle for really sunny days can have around 12% VLT — sometimes even lower.
There's always give and take when choosing a lens or goggle for overcast whiteout conditions. On one hand, you can go for a brighter lens (such as a pink or yellow) that will give you a bit of extra contrast and brightness. On the other hand, you can get one a bit darker (like a darker tinted rose) which give you a bit less VLT for when the sun comes back out.
Lens Technology for Flat Light
There are two technologies worth mentioning when it comes to increasing contrast: ChromaPop and Prizm. These technologies were developed by Smith Optics and Oakley, respectively. Both companies are regarded very highly when it comes to eye-wear and lenses.
Goggles with these kinds of technologies work by creating visual conditions where your eye has the ability to see a greater amount of detail. They do this by filtering out certain colors that work against our ability to see those fine details. They also bump up the helpful colors to exaggerate those details even more.
To get a better understanding of how the technology works, be sure to watch the following video:
Additional Tips for Skiing in Flat Light
Aside for getting a good pair of flat light goggles, there are several other things you can do to make the experience easier and safer:
If your ski resort has trails with trees or other features, consider doing those trails. The colors of the trees enhances contrast and can improve your depth-perception abilities.
Consider moving to a lower elevation. Sometimes highly elevated trails have clouds and fog that you won't find on the less elevated ones.
Use your other available body parts like your feet and poles to feel out the trail. It's not as great as seeing, but you can get a sense of things like snow-depth and incline. This one takes some getting used to, but is something that really high level skiers use all the time. They'll often refer to their poles as "cat whiskers."
Best Flat Light Goggles Reviewed
Smith I/O MAG with ChromaPop Storm Lenses
First, it's important to note that the Smith I/O MAG Goggles always come with two pairs of lenses. So don't be alarmed if you notice a pair of darker ones when you check it out.
Visible Light Transmission (VLT): 25% and 50%
Why These Are Great
The Smith I/O MAG have a spherical lens for a wider range of peripheral vision. Spherical lenses are typically considered superior to their cylindrical lens counterparts.
Designed with a 5x anti-fog coating and venting system, it does a good job keeping fog at bay when used correctly.
Has the Porex Filter mechanism, which helps regulate optical distortion caused by air pressure changes in the lens chamber.
Has interchangeable lenses, so you only need to own one pair of goggles.
Compatible with certain shapes/sizes of eyeglasses.
Triple-layered face foam with DriWix for comfort and reduction in moisture build-up.
ChromaPop technology for bringing out hard-to-see details in flat light.
Downsides
Might be too expensive for some people.
Some users don't feel that the interchangeable lenses are easy enough to change.
Where to Buy: Check Prices on Amazon
Oakley Flight Deck With Prizm Hi Pink
The Hi Pink Prizms are one of the lenses that's perfect for flat light. The color might look silly to some, but it beats not being able to see.
Visible Light Transmission (VLT): 30% – 40%
Why These Are Great
Have a really wide field of vision, as the name implies — like a pilot in a cockpit!
Uses Prizm wavelength filtering technology.
The pink tinted lens is excellent when you really need the extra contrast and brightness during flat light times.
Not specifically marketed to fit over glasses, but big enough that some people do it anyway.
Venting and F3 anti-fog coating to keep moisture build-up inside the goggles at bay.
Triple-layer moisture-wicking foam helps reduce moisture and further prevent fog.
Has built in comparability for prescription frames.
Capability to change lenses if you own another set.
Downsides
Might not be affordable for some people.
Only comes with one set of lenses. The Hi Pink lenses are great for flat light and low light, but might be too bright for some on a really sunny day.
Where to Buy: Check Prices on Amazon
Zionor Lagopus, Clear Rose Lens
Despite the funny sounding name, the Lagopus goggles from Zionor have garnered a great reputation for being durable and fog-resistant.
They also look nice.
There is plenty of elastic strap, so you won't have any problems fitting them over your helmet. These goggles are also roomy inside. Enough so that you can wear your glasses in them while you ski or snowboard. This is a feature known as "OTG" or over-the-glasses. Learn more about OTG goggles.
Nevertheless, some skiers complain that they are too tight around the nose or that the padding could be better. But at this price point, we think that the Lagopus goggles deserve to be included in our list of the best goggles for flat light conditions.
Visible Light Transmission (VLT): 46%
Why These Are Great
If you're a glasses wearer, these are large enough to fit over small to medium sized glasses (as are all Zionor goggles).
Good anti-fog reputation.
Durable and high quality, especially considering the affordable price.
Triple-layer padding provides a snug fit and enhanced venting.
A plethora of lens colors available.
Downsides
None of the cool Prizm, Porex, or ChromaPop lens technologies like the goggles above.
Might be too tight in the nose area.
Where to Buy: Check Prices on Amazon
Outdoor Master PRO Light Green Lens
While the Outdoor Master PROs don't offer the same lens technology as some of the Smiths or Oakleys, just having the right tinted lens can help in flat light. Their light green lenses are 80% VLT, which is high enough for nighttime skiing, but many users have success with them in flat light as well.
While these goggles don't share the big name endorsements as some of the others do, they're perfect for the recreational skier who isn't going to venture into extreme white-out conditions.
Visible Light Transmission (VLT): 80%
Why These Are Great
The best part about these goggles is that they offer a really simple magnetic lens switching system. You can pick up a few different types of lenses to find which ones you prefer for flat light. It's also easy to keep a lower VLT darker pair handy if the clouds part and the sun comes out.
These lenses are large and spherical for maximum peripheral vision.
Tend to be more affordable than some of the bigger brand names.
Huge variety of affordable back-up lenses to choose from.
Fits glasses up to 5.30″ wide and 1.65″ tall.
Strap is highly adjustable and fits a wide variety of head and helmet sizes.
Anti-fog coating and well-designed venting systems.
Downsides
No ChromaPop or Prizm technology.
Where to Buy: Check Prices on Amazon
Smith Squad ChromaPop Storm Rose Flash Snow Goggles
Another set of goggles to consider by Smith Optics are the Squad Snow Goggles. Just like the other pair on this list, you get a set of two interchangeable lenses, one with a lower VLT for sunny days and one for low/flat light at 50% VLT.
Visible Light Transmission (VLT): 9% to 25% (depending on tint) and 50%
Why These Are Great
Only need to own one pair of goggles since you get two interchangeable lenses. A great value for those who want to pack lightly.
Uses ChromaPop technology to bring out features of the mountain and snow.
Can usually be found cheaper than the I/O MAG goggles.
Solid anti-fog system — users report that they are extremely quick to defog.
Downsides
Cylindrical lenses can reduce peripheral visibility slightly.
Can't change lenses on the fly — no magnetic swapping system.
Where to Buy: Check Prices on Amazon
Best Goggles for Flat Light Wrap-Up

White out or flat light conditions can be some of the most dangerous times on the slopes. If you're going to venture up to extremely high elevations or ski in places with a lot of snowfall, it's important to not skimp on your goggles. While nothing is ever going to provide perfect visibility, it's important to have every edge possible.