When it comes to skiing and snowboarding, wearing the right clothes not only makes you look good, it can make or break your whole experience on the mountain. But wearing the right number of layers can seem like a losing game, as you may feel like you never get it right. You may feel too hot or cold when you get to the resort, especially if you're a beginner who doesn't go skiing very often. In this post, I'll give you a survival guide to layering for skiing so you can maintain a good body temperature and be comfortable all day, even when it's freezing on the slopes.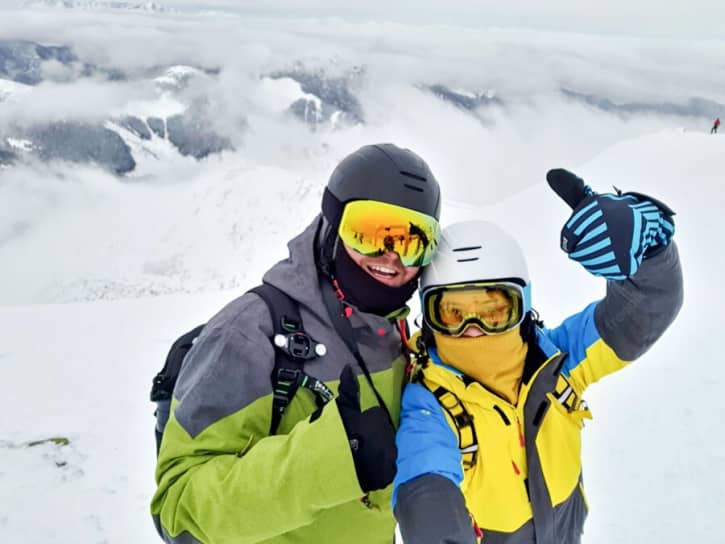 How Many Layers Should I Wear?
Believe it or not, wearing an excessive number of layers doesn't help. It can actually make you colder.
You may feel warmer at first, but too many layers makes you sweat, sweat builds up moisture, and moisture makes you feel cold and wet. So next time you go skiing, don't bother with tons of t-shirts and winter coats. Just dress smart and effectively.
With that in mind, you wear three layers when you ski or snowboard in the cold: Base Layer, Mid Layer, and Outer Layer.
Base Layer
This is the first layer that protects you from the cold, so it should be close-fitting, sweat-wicking, warm, breathable and able to dry quickly. It's basically long underwear.
Your base layer should cover you almost completely, from your neck to your ankles. There are two pieces of clothing for this layer:
Base Top:
It can be a long sleeve t-shirt that keeps the body heat inside and absorbs moisture, which prevents you from feeling wet and cold. This top should be made of insulating, sweat-wicking materials such as synthetic blends or merino wool. Cotton is not a good option for layering for skiing because it's sweat-absorbing.
Base Bottom:
You can wear close-fitting pants, but make sure that they fit you right above the ankles. If they're too long, you might tuck your pants into your boot and ski socks, which can add pressure when skiing. This can prevent you from finding the right size of ski boot.
Not all base layers have the same thickness, as this depends on the temperature. A lightweight layer is thin and light which mainly provides insulation and breathability. It absorbs sweat and dries faster.
A middleweight layer is thicker, breathable, and warm, which makes it ideal for colder weather. A heavyweight layer is highly insulated, but it takes longer to dry. It's perfect for extreme cold temperatures.
Read also: Best Women's Base Layer for Skiing
Similarly, the base layer doesn't have to be tight-fitting, but you can choose which fit suits you. Compressed-fit layers are very tight, increasing blood flow and insulation. Fitted layers are less compressed and more relaxed, but still provide insulation. Soft or regular fit layers are loose and more comfortable, so you'll probably prefer these if you are going to be skiing all day.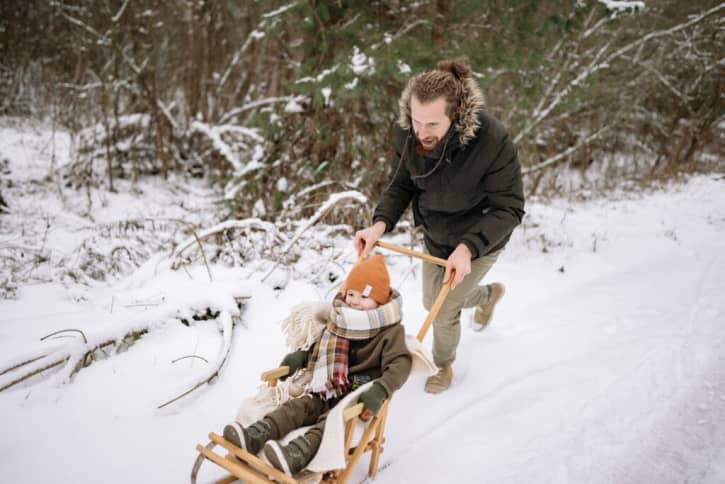 Mid Layer
This layer covers the base layer and it serves two purposes:
keep the warm air inside the clothing
move the moisture to the outer layer
This layer shouldn't be too tight or too loose as this can make your clothes uncomfortable and prevent insulation.
Skiers normally wear ski sweaters made out of fleece and wool. The thickness of this layer will also depend on the outside temperature. For example, if you're layering for skiing in colder weather, you can pick a thicker layer, and you can wear a thinner ski sweater when it's warmer.
Outer Layer
A ski jacket and pants (or bibs) that are waterproof, windproof, and breathable make up this layer. These critical functions will keep you warm in cold weather, so that's why you need to wear ski or snowboard clothing on the mountain.
Amazon carries all kinds of waterproof ski jackets. (ad)
Waterproofing on your ski clothes keeps you dry if you fall on the snow or if it snows (yay!) while you're on the mountain. Windproofing on your layers will prevent cold winds from getting in. And good breathability ensures that your clothing stays dry and dries quickly.
Some other features to keep your eye out for are ventilation zips under the arms, a breathable shell fabric, and, if you want extra waterproofing, taped seams. Also look for snow skirts to keep the snow out, as well as pockets for your lift ticket, cell phone, water bottle, etc.
How to Layer for Skiing

Normal clothes aren't really designed for when it's really cold on the mountain, so skiers and snowboarders wear special clothing to survive the cold. Three layers of these winter sports clothes are more than enough to keep you warm when layering for skiing in the cold.
Avoid any sweat-absorbing materials like cotton so your clothes don't get wet. The secret to keeping warm is to wear dry ski clothes, so materials besides cotton on the inside and waterproofing on the outside take care of that.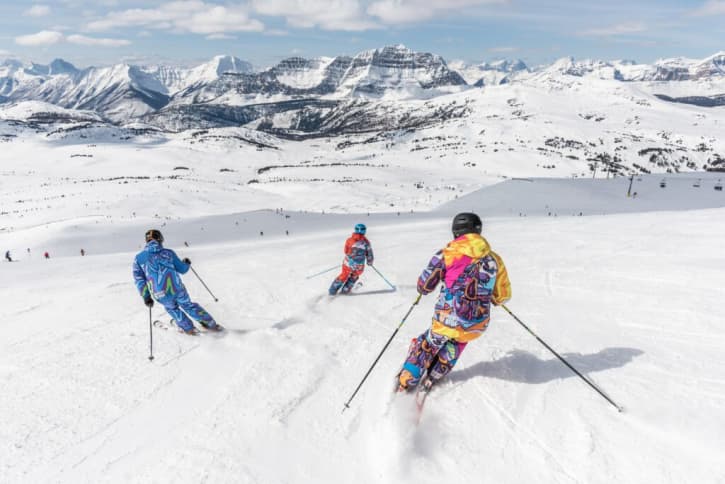 Can I Bring a Backpack?
Sure, you can bring a backpack where you can store your layers if you take one off or if you need an extra one. Since the outside temperature may change during the day, it might be useful to take your extra layers inside a backpack.
You can probably leave it in the lodge or cafeteria area, as long as you feel that the ski resort is safe and your stuff won't get stolen. Or if you're not so sure, you can use the guest lockers at the base.
Summary
Proper layering for skiing is important because normal clothing isn't really meant to keep you warm in the blistering cold on a mountain. You need these special layers of ski clothes to stay dry and warm. It's best to wear three layers for the cold. Each layer performs different functions to solve the the moisture problem.